My dad requested a long sleeve, french cuff, button-down shirt for xmas 2011. I bought McCall 2447 for the project because it had a back yoke and french cuffs already drafted in the pattern. The only thing I was going to have to change was the front band. My dad wanted a contrast band so I had to split it off the right side of the shirt and slightly redraft.
Perfect pattern to work with for this project.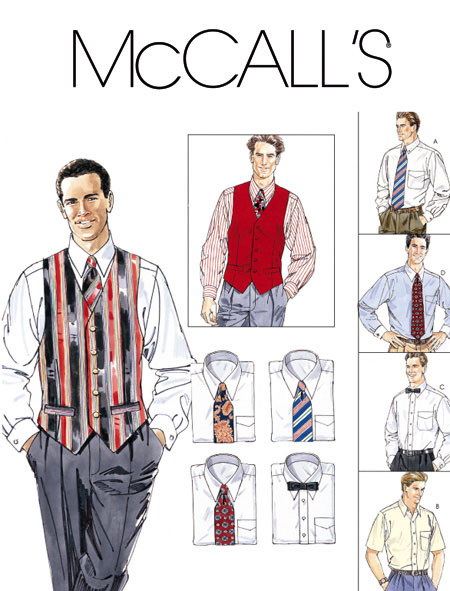 I originally purchased some grey fabric from
Gorgeous Fabrics
and was going to use some Liberty of London fabric as contrast, but Ann accidentally ran out of the fabric I requested and I had to find something else. Fortunately, she said I could pick out anything else, up to $14.00/yd to replace the fabric I ordered. I found the reversible doubleweave cotton fabric pictured below. I think the color is the most accurate in the first photo. The second shows the other side.
The fabric was beautiful, but a pain in the ass to work with because it was so loosely woven, and after cutting, the layers separated from each other. Very shifty during cutting and sewing. Also, it was a little thicker than I liked, but my dad sure likes the shirt.
More pictures:
And the Review:
Pattern Description:
MEN'S LINED VEST, SHIRT, TIE IN TWO LENGTHS AND BOW TIE: Vest has front welts, back and back belt are cut of lining fabric; shirt with buttoned front has back pleated to yoke forming forward shoulder seams and cuff variations; lined tie in two lengths and bow tie also included
I made the shirt with the french cuffs.
Pattern Sizing:
(S-L) (XL-XXL), I made the XL for my dad.
Did it look like the photo/drawing on the pattern envelope once you were done sewing with it?
Pretty much, yes.
Were the instructions easy to follow?
I think so. I didn't use them much. I've made many shirts like this now for school, so I'm pretty use to the construction.
What did you particularly like or dislike about the pattern?
I thought the sleeves were a little too poufy. I think I'll try the new men's Vogue pattern next time.
Fabric Used:
A beautiful cotton double weave. Very loosely woven, and shifty, so it was difficult to work with.
Pattern alterations or any design changes you made:
I made a separate front band on the right side so it could be in a contrast fabric. I shortened the shirt also. I also redrafted the under collar so it was slightly smaller and would turn under better. I hate that the BIG 4 patterns use the same pattern for the under and top collars. I got a little creative with the contrast fabric. It was used on the inside back yoke, under collar, inside collar stand, right front band, cuffs and sleeve placket. I used the David Page Coffin method of making the placket. I also flat felled the sleeves and french seamed the side seams.
Would you sew it again? Would you recommend it to others?
Yes, but not for a very long time. Sure, if you like fuller sleeves. I like slimmer shirts personally.
Next up, a baby outfit. Finished it in a day and a half, and its already in the mail. Pictures and review to come.