Hi everyone! Just finished a skirt I've been planning to make for a very long time, but never got around to it until the
Pattern Review Vintage Contest
sparked my interest in sewing for myself again.
Here's the pattern: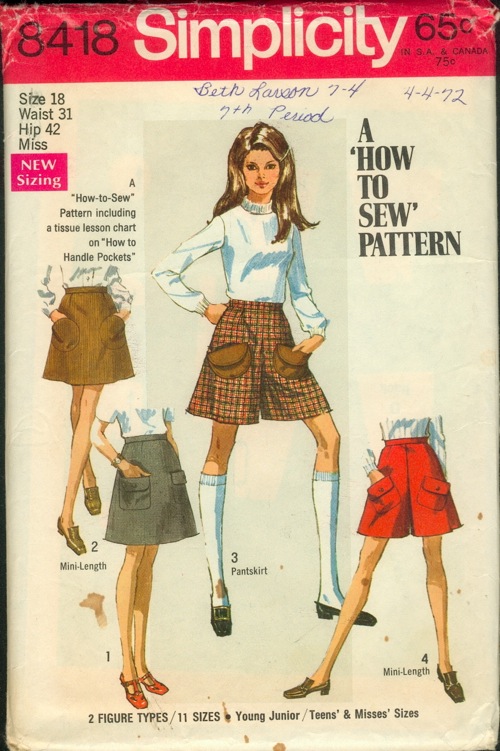 Vintage Pattern Wiki
Simplicity 8418; ©1969; Young Junior/Teens' and Misses' Skirt in Two Lengths and Mini-Pantskirt: (Including a Tissue Lesson Chart ... "How To Handle Pockets"). The skirt V. 1 & 2 and the mini-pantskirt V. 3 & 4 with patch pockets have side zipper and waistband. V. 1 is regular length. V. 1 & 4 have shaped pockets with button trimmed flaps. Mini-length V. 2 has round pockets. V. 3 has top-stitched contrasting round pockets with flaps.
Here's the review:
Pattern Description:

Simplicity 8418; ©1969; Young Junior/Teens' and Misses' Skirt in Two Lengths and Mini-Pantskirt: (Including a Tissue Lesson Chart ... "How To Handle Pockets"). The skirt V. 1 & 2 and the mini-pantskirt V. 3 & 4 with patch pockets have side zipper and waistband. V. 1 is regular length. V. 1 & 4 have shaped pockets with button trimmed flaps. Mini-length V. 2 has round pockets. V. 3 has top-stitched contrasting round pockets with flaps.

I made view 2, the mini skirt.

Pattern Sizing:

Young Jr/Teen
size 13-14
Waist 26
Hips 36.5

Did it look like the photo/drawing on the pattern envelope once you were done sewing with it?

The shape yes! I did some additional topstitching.

Were the instructions easy to follow?

I glanced at them, and they were very good. Sparce, but good. The extra information on handling pockets was very cute and had some good information!

What did you particularly like or dislike about the pattern?

I think the pattern was a little long. I made the mini skirt and it hits me just above the knee. Not a true mini, but I'm okay with that.

Fabric Used:

Denim that was supposed to be 100% cotton from Fabric.com. I swear they sent me the wrong fabric because there was definitely a lot of lycra in there. I pre-washed the fabric twice and each time it got stretchier and stretchier as the sizing washed out. Also, when I received it, there was this bad fold line down the center. Washing it out and pressing did not work so I worked around it. Ended up topstitching to hide it.

Pattern alterations or any design changes you made:

I added 1" total around the waist, but ended up taking it back in the same about. I guess with the stretch of the fabric, my 27" waist did not need the extra inch. Instead of using the half circle shape pocket facing piece, I just cut 1 circle of denim and 1 of the contrast lightweight cotton. I sewed them RST, clipped and turned. I really hate sewing on patch pockets that are curved. Very difficult to get the right shape, so this was easier for me and didn't compromised the look of the design at all. I did a lot of topstitching too! It was denim and all. Used a button closure instead of hooks and eyes. Oh, and a turned down the pockets a little less than in the picture on the pattern envelope.


Would you sew it again? Would you recommend it to others?

I woud not sew it again as I have too many skirt patterns I was to try and draft! I would recommend it though.


More views of the skirt:


Hope you all like it! Vote for me :)