Did you know they use this exterior shot for the hospital in Private Practice?
Hi everyone. As most of you know, I'm attending the Fashion Institute of Design and Merchandising, L.A. campus in the Fall (starting in October). The day before my big move, I traveled to the San Francisco campus for registration and to pay my ginormous first bill. I thought I would write a little about my experience.
I took Amtrak to the city at an ungodly hour to make sure I made it to registration on time. I was the 9th person who arrived. I was sent to a large multi-purpose room to watch a video about Tom Ford, the designer behind Gucci.
I was so thankful I arrived early! My number was called and I then waited in a short line for my itinerary. Since I am a professional designation student (I already have a 4 yr. degree) I was given a very short list of things to do and was sent to pay my bill. I felt like throwing up when I handed them my debit card. Ugg. So much money and I owe them so much more! I was then sent to the lounge to talk to a counselor and was immediately sent back to Financial Services to talk to a counselor about my payments and other business. Things seemed a little disorganized.
I then got to register for classes! I have to take 5 classes this quarter:
Industry Sewing
The Business of Fashion
History of Costume
Color and Design Theory
Fashion Sketch for Design I
I was very lucky and got the schedule I wanted. I almost didn't though. The Registrar had to rearrange my classes, but I still got the same time-slots that I initially wanted. I felt like I was treated like a high school student. Granted, most incoming students were. They said that had to triple check my registration form. I have registered for countless college classes on my own, so this seemed a little overkill to me. Oh well, at least they seemed to care.
I left shortly after and went shopping. When I quit my job, my boss generously gave me a gift card to
Anthropologie
! I was able to buy a dress (on sale!) and then make it back on the bus an hour early.
Edit: Here's the dress I bought: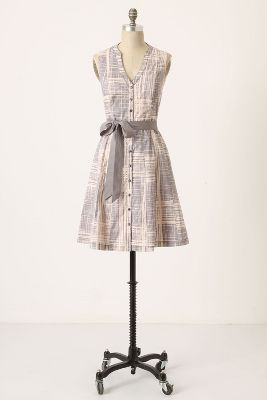 Magnifying Glass Dress @ Anthropologie


* This blog is not sponsored by or afflilated with FIDM in any way other than I am a current student. My views are not the views of the school.